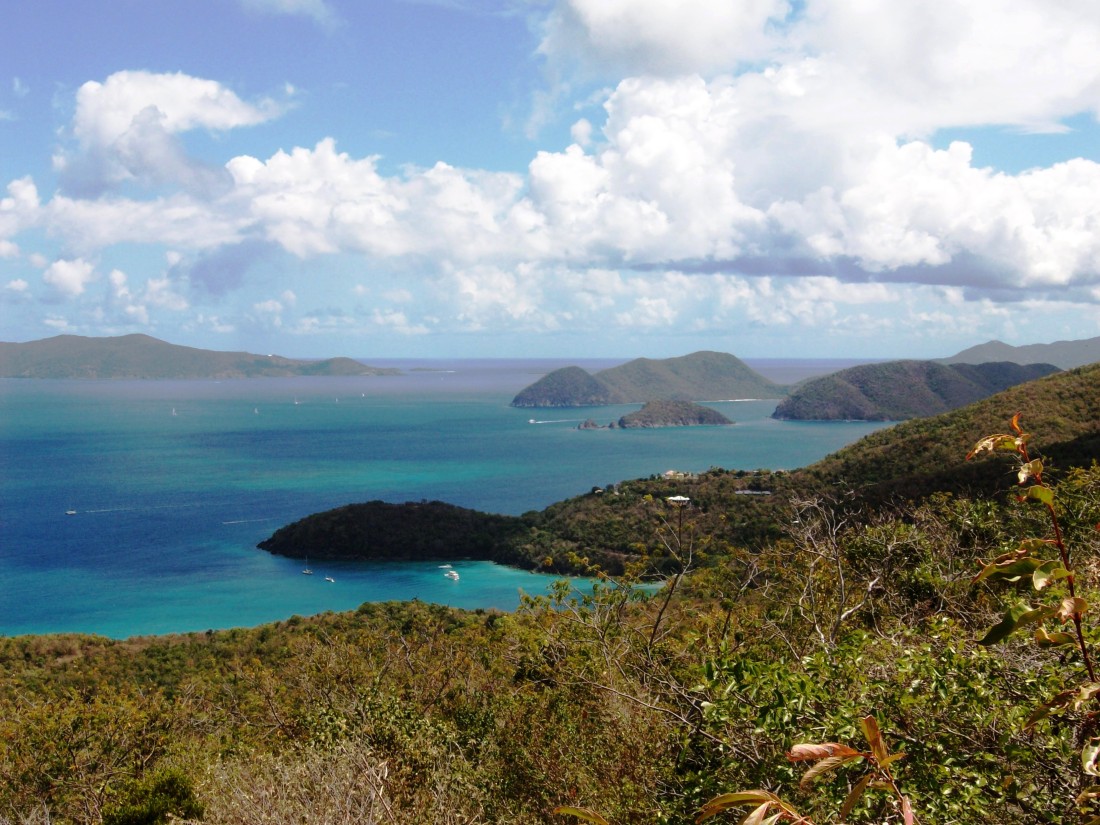 A Little Slice of Heaven in Caneel Bay, USVI
In honor of our first anniversary on Sunday, I'm posting some special features on our honeymoon to St. John, US Virgin Islands. 
I can't go on blogging without telling you about the exquisite, unspoiled tropical paradise of the US Virgin Islands, where Brandon and I spent our honeymoon.
We were on such a high from the wedding that I think we would have been happy staying in a hay barn, but we had booked a week at Caneel Bay resort, a 170-acre property on the island of St. John that boasts three private beaches, a hilltop lodge with panoramic views, and contemporary, unassuming accommodations.
Caneel Bay is the former private estate of Laurence Rockefeller, who was so captivated by St. John's beauty that he convinced Congress to make it into a national park.
God bless him for doing that. Other islands in the Caribbean are peppered with hillside beach houses and towering resorts, but St. John remains nearly untouched. With three-fifths of the island (about 15,000 acres) a national park, and an additional 5,000-acre marine  preserve of surrounding coral reefs and seas, it's impossible not to look up into the verdant hills and imagine what it must have been like to be the first person to ever set foot on the island.
The plant and wildlife diversity is rich, thanks to these conservation efforts. There is always a unique fern, palm, or other plant sprouting out of cracks in the sidewalk or even cracks in the bark of other trees. There were so many different types of palms that Brandon and I started a game where we had to guess how many leaves in each palm frond.
This is what you think about when you've spent the last five months making seating arrangements and coordinating with a florist.
There was even a palm that looked like an old man's beard! It gave me a peek into what my future holds when Brandon is an old man.
One of the more well known aspects of the island is the donkeys. They are everywhere, and are pretty much given free reign.
I guess they keep mowing costs down.
Deer are as common as the donkeys and can be seen lounging about on the lawn.
Every day, afternoon tea is served from Turtle Bay estate house overlooking the water. It was right by our room, and we would indulge ourselves greatly in this event by extracting ourselves from our beach chairs and relocating here for tea and cookies.
I could have done this every day.
It was a great place to watch the sun set.
And once the sun set, the stars were absolutely incredible.
The rest of the week, we hiked the hills by our resort, went on a sailing and snorkeling expedition, and swam with the sea turtles in the bay.  It was nearly impossible to peel ourselves away and go home.
I had started to settle into the rhythm of island life and was operating on island time. I wanted to stay. But fortunately, I had my whole married life in front of me, and I was ready to get home and start it.
Not a paid advertisement.

More to come on our sailing adventure, snorkeling, and hiking to the top of Caneel Hill.