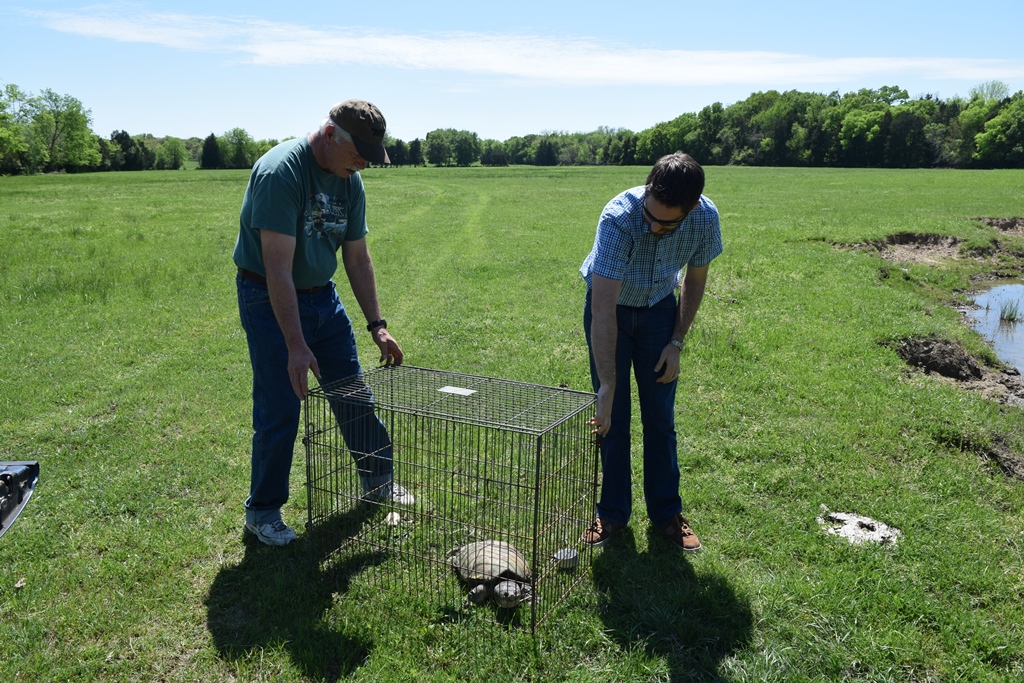 An Easter Blessing for a Snapping Turtle
Happy belated Easter! I hope you ate at least half as much Easter candy as I did, so I don't feel as guilty.
We went to my husband, Brandon's parents' house in the country and had a big party and Easter egg hunt with his family.
One of the perks of living in the country is chicks on Easter morning.
They're so cute!
This year, chicks weren't the only caged animal at my in-laws.
When we arrived, Brandon's dad had something he wanted to show me.  Out in the yard, in a cage, was a fifteen inch snapping turtle he had caught that morning by one of his stock tanks.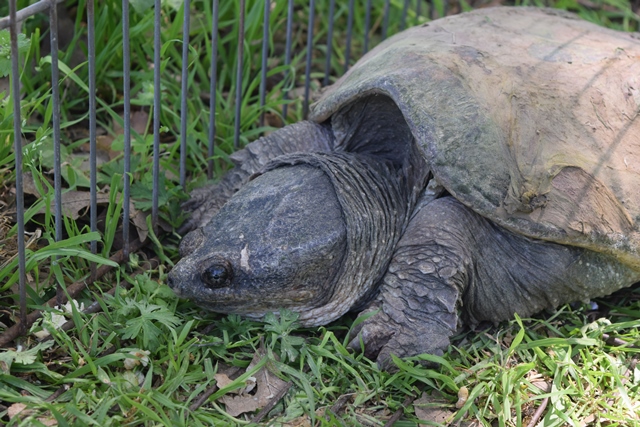 Bill didn't want the turtle to live in his pond because it would eat all of his fish, and so Bill had picked out a creek about a mile away to move him to.
Despite the fact I was dressed in my Easter outfit–a silk skirt and patent leather shoes–I helped load up the turtle and climbed in the truck to go deposit him in the creek.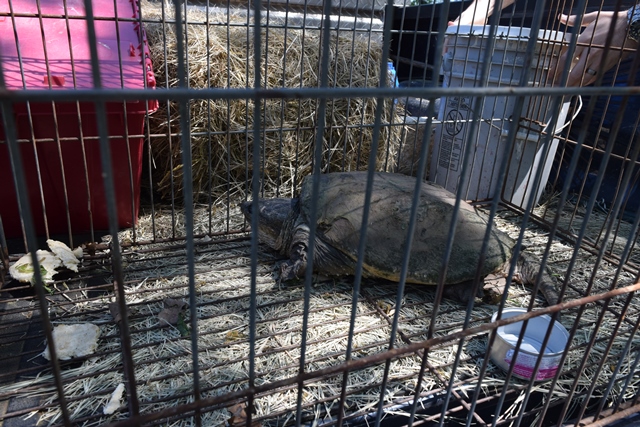 Mr. Snappy wasn't moving by this point. I think he was very unhappy.
As we lowered the cage to the ground, I felt like I was reliving the scene in Free Willie where they free Willie. It's a glorious feeling.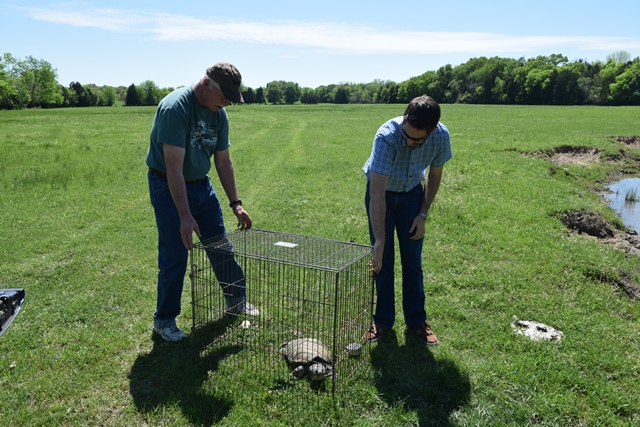 Brandon opened the door and Snappy made a bee line for the water. I've never seen a turtle move so fast! He was a free man once again.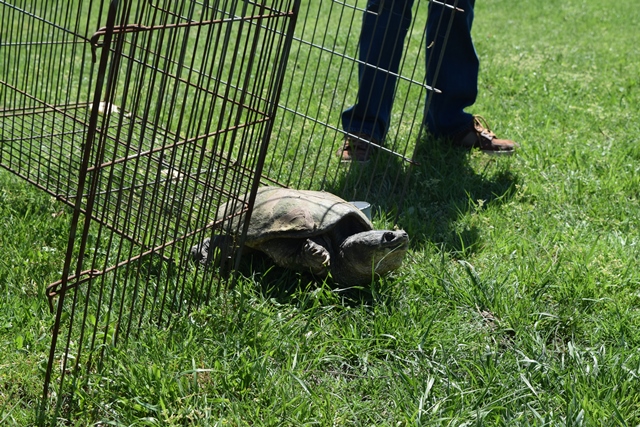 Is that a smile on his face?
There he goes!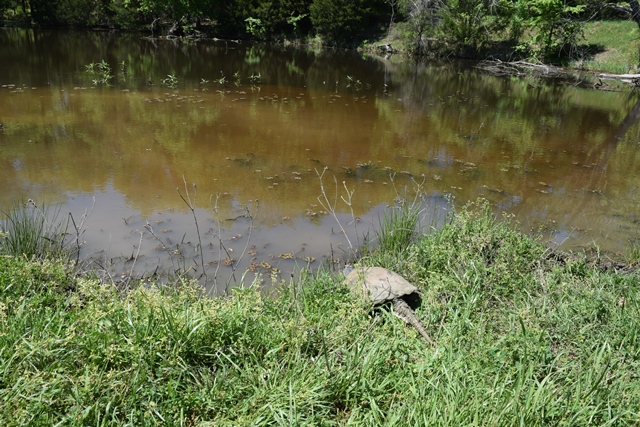 Plop!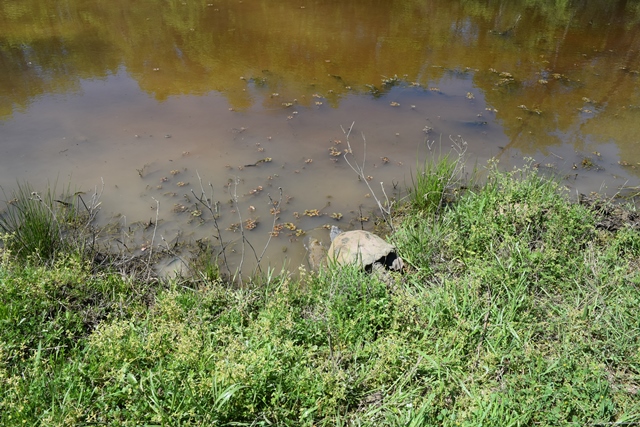 Snappy alternated between swimming around his new home and burrowing himself in the mud. He was one happy turtle.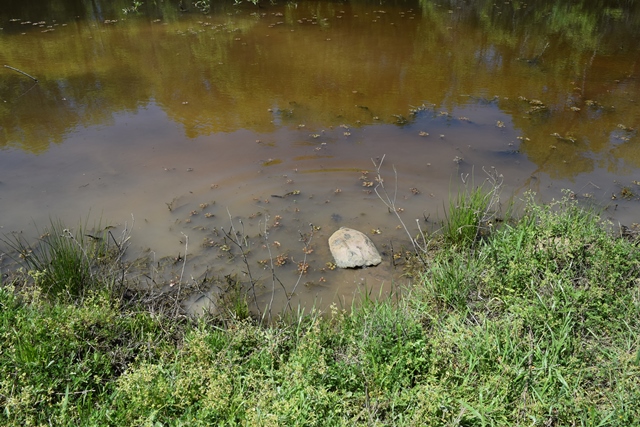 Snappy got to enjoy the very meaning of Easter, renewal of life. That morning he was awaiting his fate in a cage, and by the afternoon he was swimming in a new pond. As Bill said, "I could have just shot him but…it's Easter."
It was his lucky day!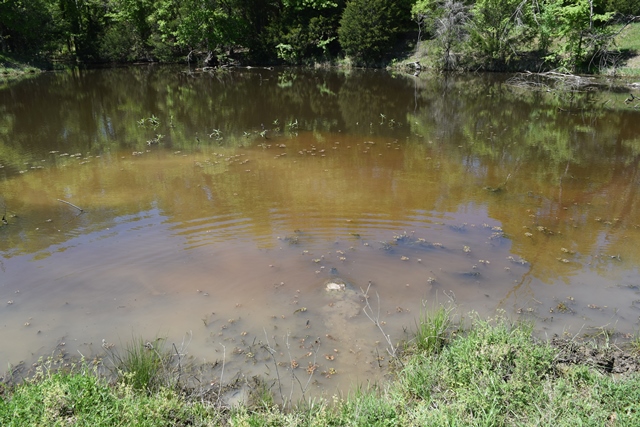 During this adventure, Bill told me he read my blog and he "never knew I was so outdoorsy." He said it surprised him because I was such a girly girl. I said, "Bill, I can still be girly and into the outdoors! "
"I guess that's true," he pondered. "So…you're like a half breed."
A half breed. Yes, I suppose. I think that is a compliment? I went back to the house in my silk Easter outfit and blended right in with the city folk. I'm stealthy like that.