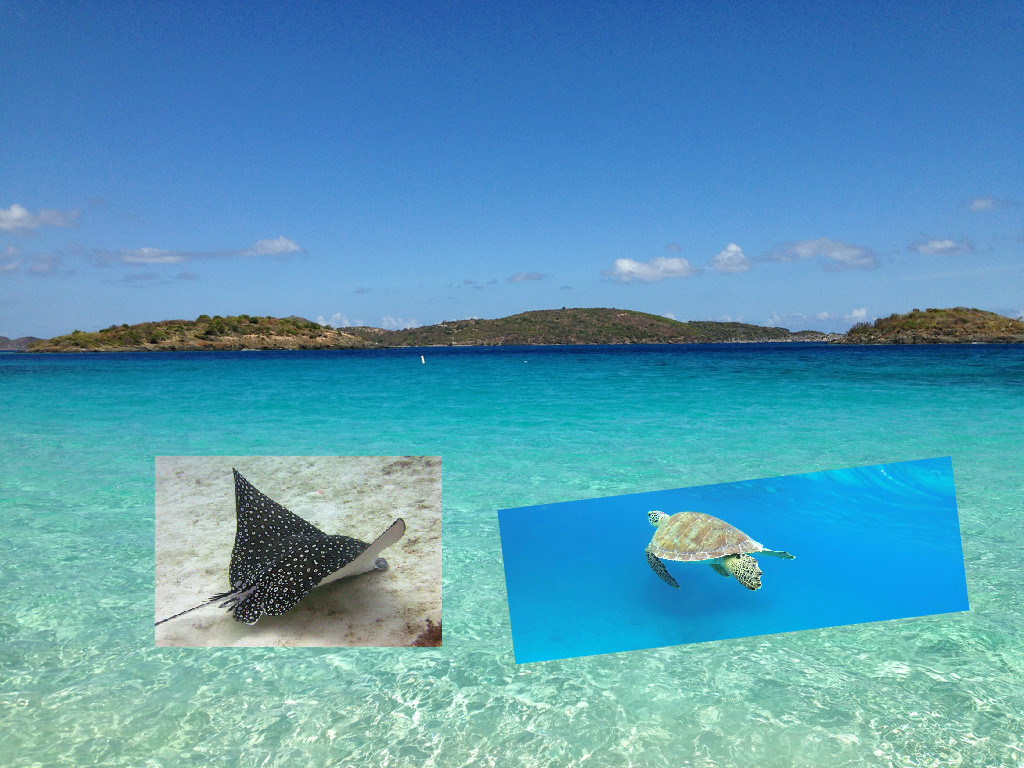 What it's Like Underwater in the US Virgin Islands
In honor of our first anniversary, which was on Sunday, I'm posting some special features on our honeymoon to St. John, US Virgin Islands.
Before our honeymoon, I felt rather apathetic towards snorkeling.  My only previous experience had been in the Florida Keys, where I was slapped in the face all afternoon by waves, gulped down so much salt water that my throat burned, and all the while seen nary a colorful fish or coral.
One of the perks of Caneel Bay, the resort where we spent the week of our honeymoon, was complimentary use of snorkeling equipment.
Our first attempt took place at the beautiful Hawk's Nest bay on the first full day of our trip.
We donned our snorkel gear and awkwardly clambered down to the water's edge, and I do mean awkwardly.
We started kicking our flippers as soon as we were in deep enough waters.  Should we hug the shore? Should we swim out in the middle? we asked ourselves, and we had no clue what we were doing. About 25 yards offshore, dipped our faces under the water for the first time.
We were swimming right next to–and I mean just a few feet from–three gigantic sea turtles.
We both lifted our heads above water, looked at each other, shouted "DID YOU SEE THAT?", pointed down below, and returned to the water.
Just then, a large spotted sting ray darted through the water ten feet in front of us.
We grabbed each other's arms, not wanting to take our heads above water but wanting to acknowledge this turn of events.
The sting ray's sting ray was a good 30 inches long. Covering its cape-like back was black skin with splotchy white spots ranging from a dime to a quarter in size.
I had never seen an animal like this up close, much less by happenstance, before. Like most people, I grew up watching exotic animals from the opposite side of a pane of glass at the local zoo.
But this time, I was swimming in his waters. I was a visitor to his world.
As the awe sank in, a vision of Steve Erwin getting speared by a sting ray shot through my mind and I became glad the sting ray was swimming in the opposite direction.
Meanwhile, the sea turtles continued to bob their heads up with the waves and lazily waddle their fins through the crystal clear water in much the same way they propel along the sand. They were out for a swim, enjoying the sunny afternoon.
Once we were ashore, we tore off our snorkel gear, looked at each other, and shouted simultaneously, for the second time, "DID YOU SEE THAT??!!"
That evening we booked a snorkeling and sailing expedition, which proved to be just as fruitful.
Every bird, plant, and animal in the tropics boasts the most exquisite and delicate detail. Whether it's the plumage of tailfeathers, the color patterns on the side of a fish, or the shape of a palm's foliage, everything appears to have been individually designed by an artist.
The memory of swimming with such beautiful creatures is a lasting one. Had I made a bet on what I thought my favorite part of our vacation would be, I would not have chosen snorkeling.
Back in Austin, my thoughts occasionally float to that day and I imagine that right now, there's a sea turtle bobbing around the shallow waters of Hawk's Nest Bay.