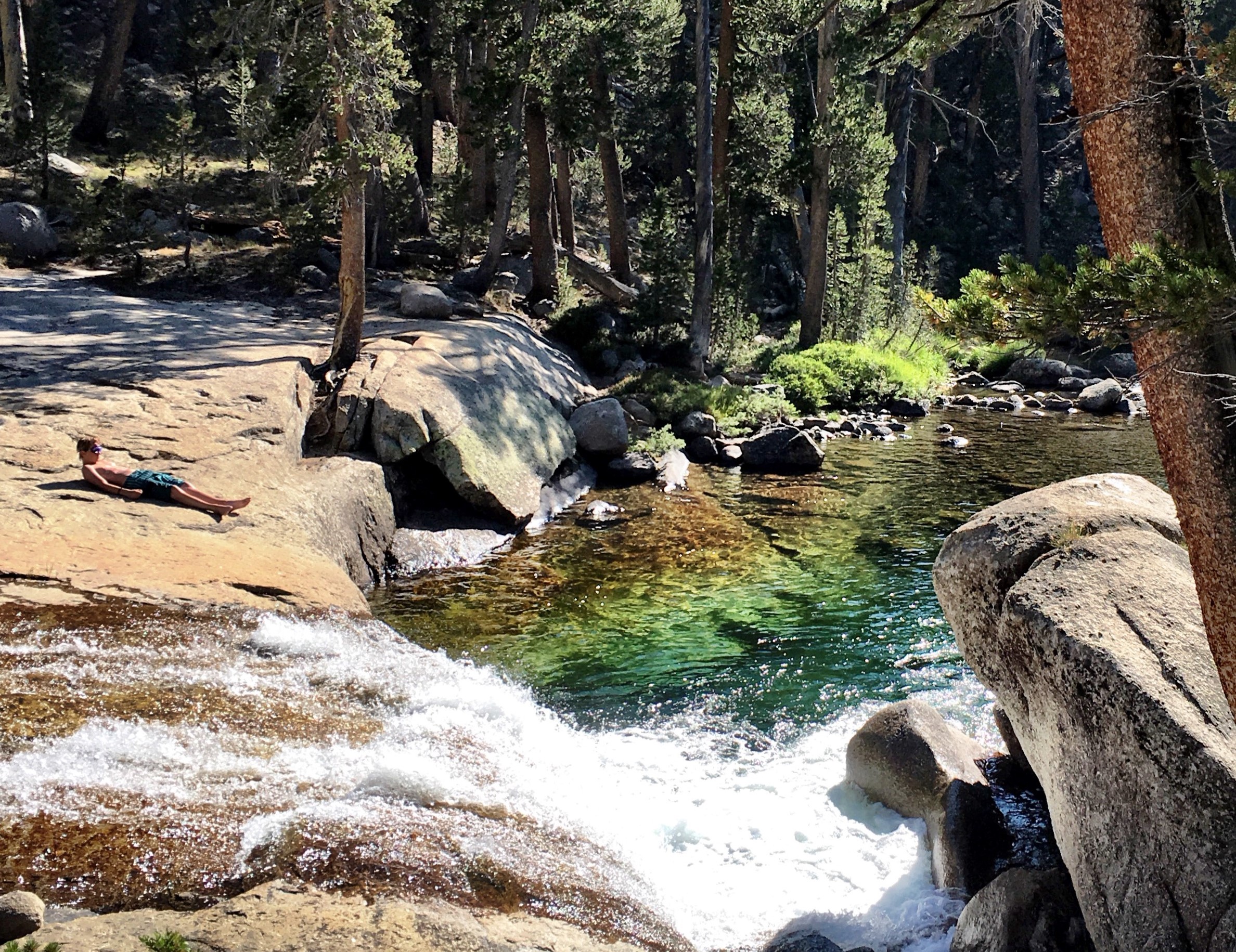 Two Gorgeous Swimming & Sunbathing Stops in Yosemite
As y'all may have seen here, earlier in August I went on a backpacking excursion in California with my brother and my husband, the two main men in my life other than my dog. The day before we started the hike, we happened to be camping a short drive away from Yosemite National Park and it would have been a shame if we didn't visit.
As a Texan, whose only national park is 6+ hours away, it was strange just "stopping by Yosemite" for the afternoon, but I definitely could get used to it.
The beach and swimming hole we saw there are two must-see stops to add to your agenda for Yosemite National Park. And if you've never been to Yosemite, you MUST go! It's the American thing to do.
Tenaya Lake
After seeing this lake, I'm convinced that Yosemite is the perfect vacation for those who can't decide if they're beach people or mountain people.
It's also perfect for couples and families who are split on this important issue.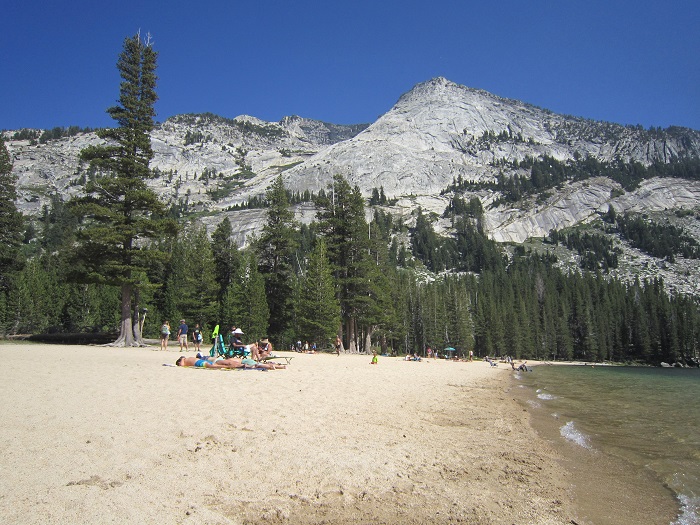 I would never have expected to need my swimsuit in the mountains, but what do you know.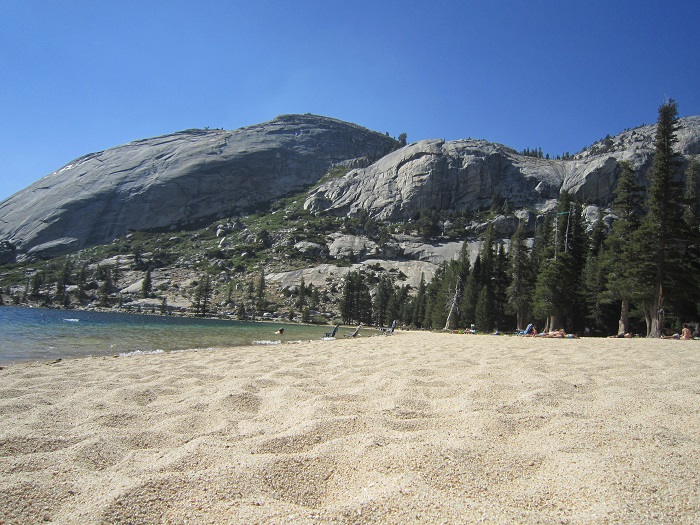 This beach has sand, so a sand castle building kit would be in order.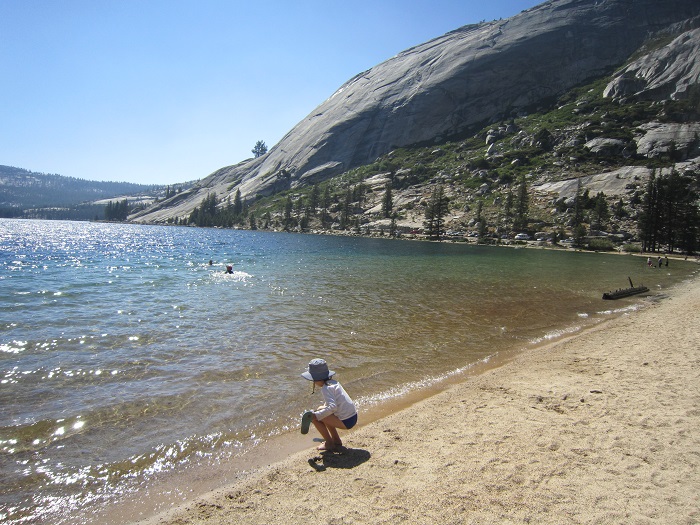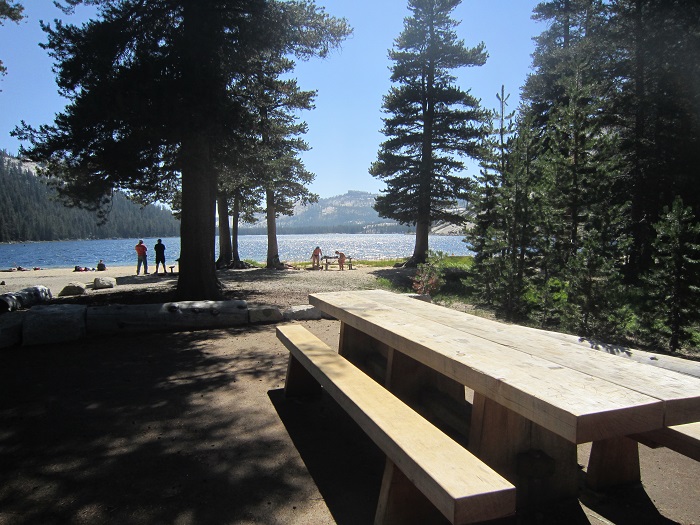 Note: the path leading to the beach is stroller friendly but very short.
How to Get There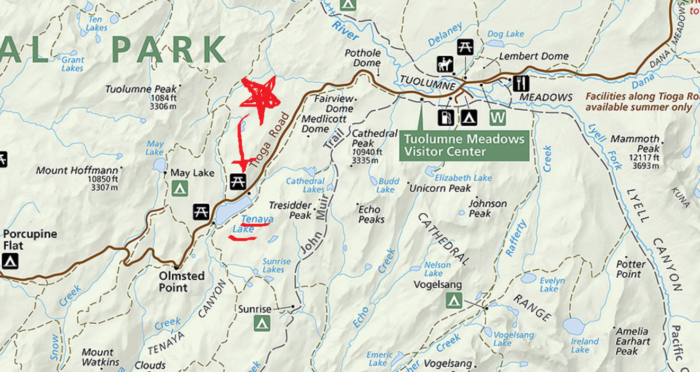 This is located along Tioga Road (the main road going through Tuolomne Meadows) and the lake is visible from the road. Park at the northern end for the beach.
Another handy map can be found here: Summit Post Puppy Dome Map
Swimming Hole by Puppy Dome
Ladies, there is a place on this earth called Puppy Dome. Finally, someone is naming landmarks after things that make us happy. On the other hand, there are no puppies here, so that's lame.
This swimming hole is located at the base of Puppy Dome, on the Dana Fork of the Tuolomne River.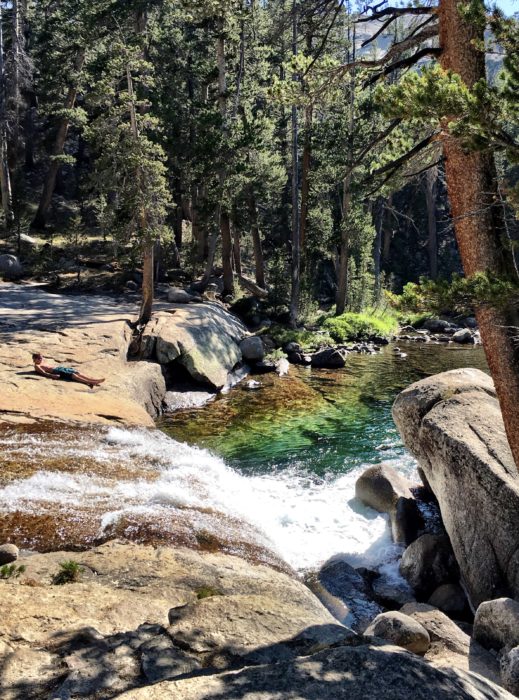 Sunbathing here is prime! Look at that rock. It's begging for some sunbathing.
This was a very quiet spot when we were there. The water is crystal clear and perfect for swimming, and there are big flat slabs of granite around that are perfect for a picnic. If this were Texas, there would be swarms of people around going for a swim.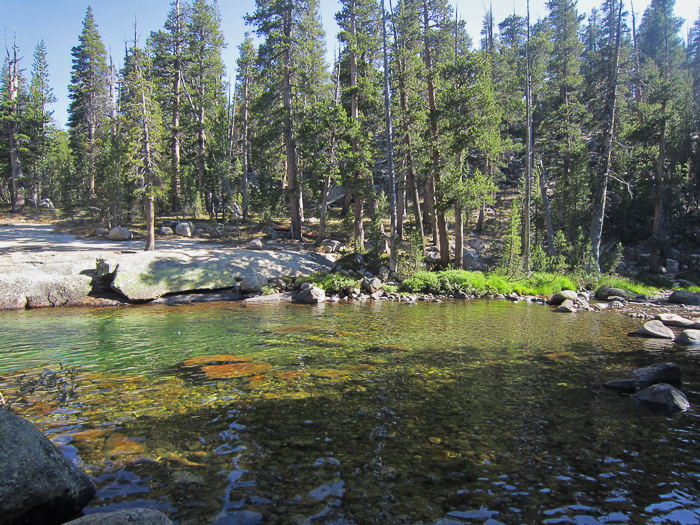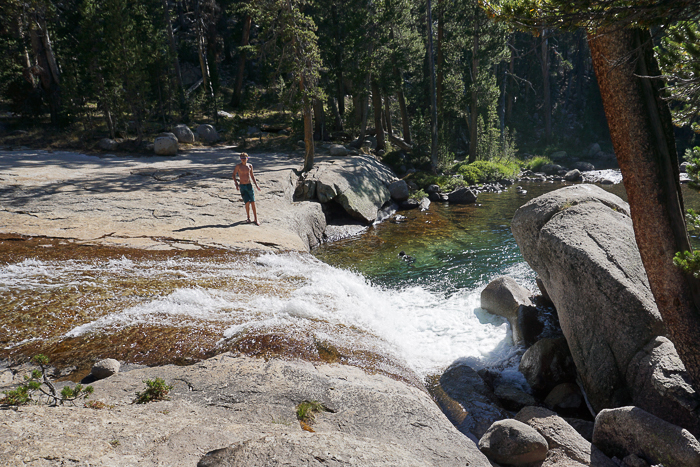 One convenient thing about this swimming hole is that it is away from the main road so it feels remote, but it's not a long walk from the parking lot, so you can easily bring your gear with you for fishing, lounging, and picnicking.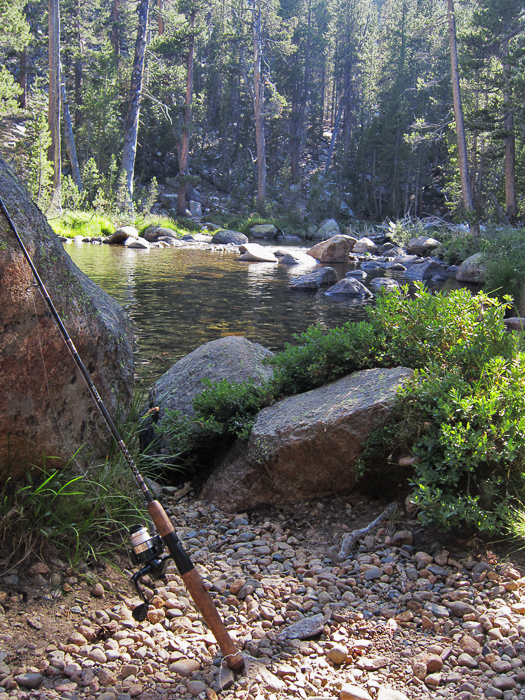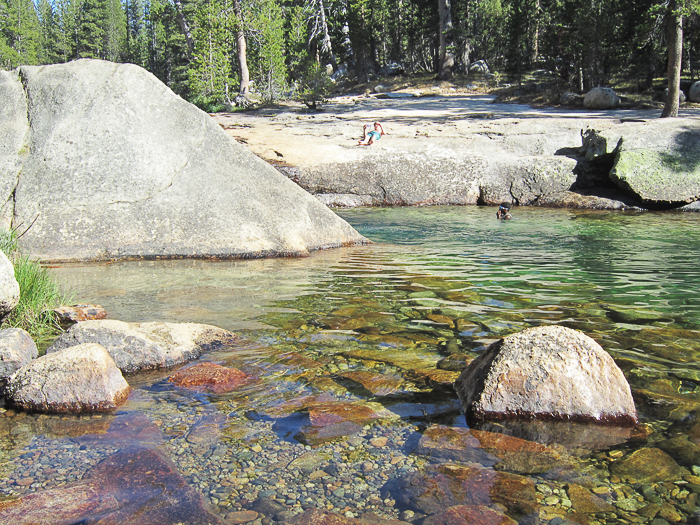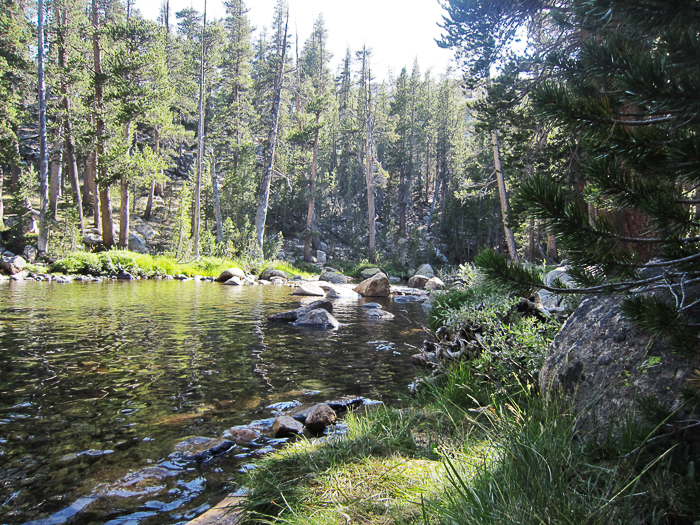 Occasionally there will be rock climbers scaling Puppy Dome which is fun to watch.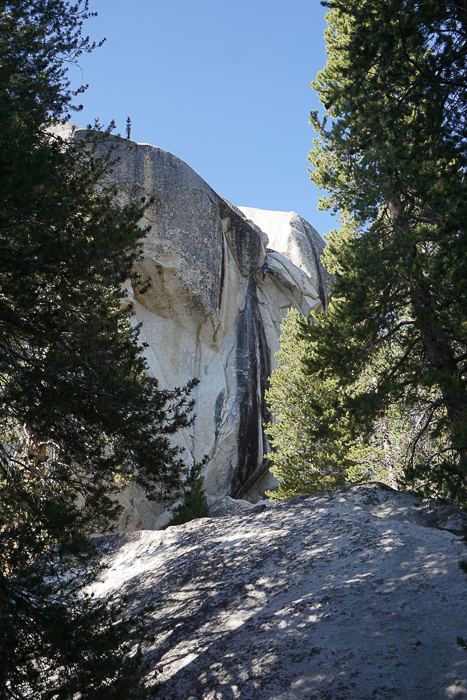 How to Get There
To get there, drive east on Tioga road from the Tuolomne Visitors Center and park in the parking lot on the south side of Tioga Road beside the Tuolomne lodge. (After Lembert Dome it will be on the right.) Park by the lodge and follow the trail past the boulders at the base of Puppy Dome. You will go probably a quarter mile through the trees until you encounter the Dana Fork of the Tuolomne River and boom! There are the falls.
Note: this is not stroller friendly.
What to Bring
You're going to want plenty of time to enjoy these locations, so plan accordingly. Allow an entire day and be sure to pack food.
And your mother says don't forget your sunscreen!
Towels
Folding chair
Book/magazine
Swimsuit
Tevas or Chacos
Picnic Lunch
Jacket
It can be a little breezy so I would recommend bringing an extra layer just in case.
Neither locations are far from parking so hauling a cooler, baby equipment, etc. is not a problem.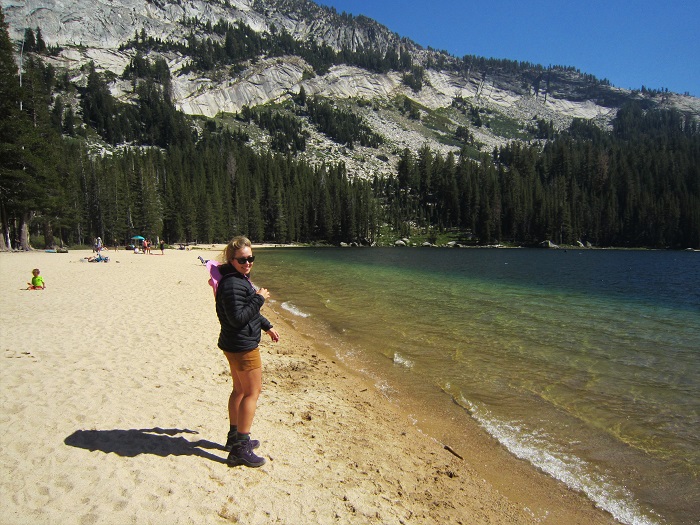 I hope you save this info for your trip to Yosemite and enjoy these places as much as I did!
Happy swimming.
Save
Save
Save
Save
Save
Save
Save
Save
Save