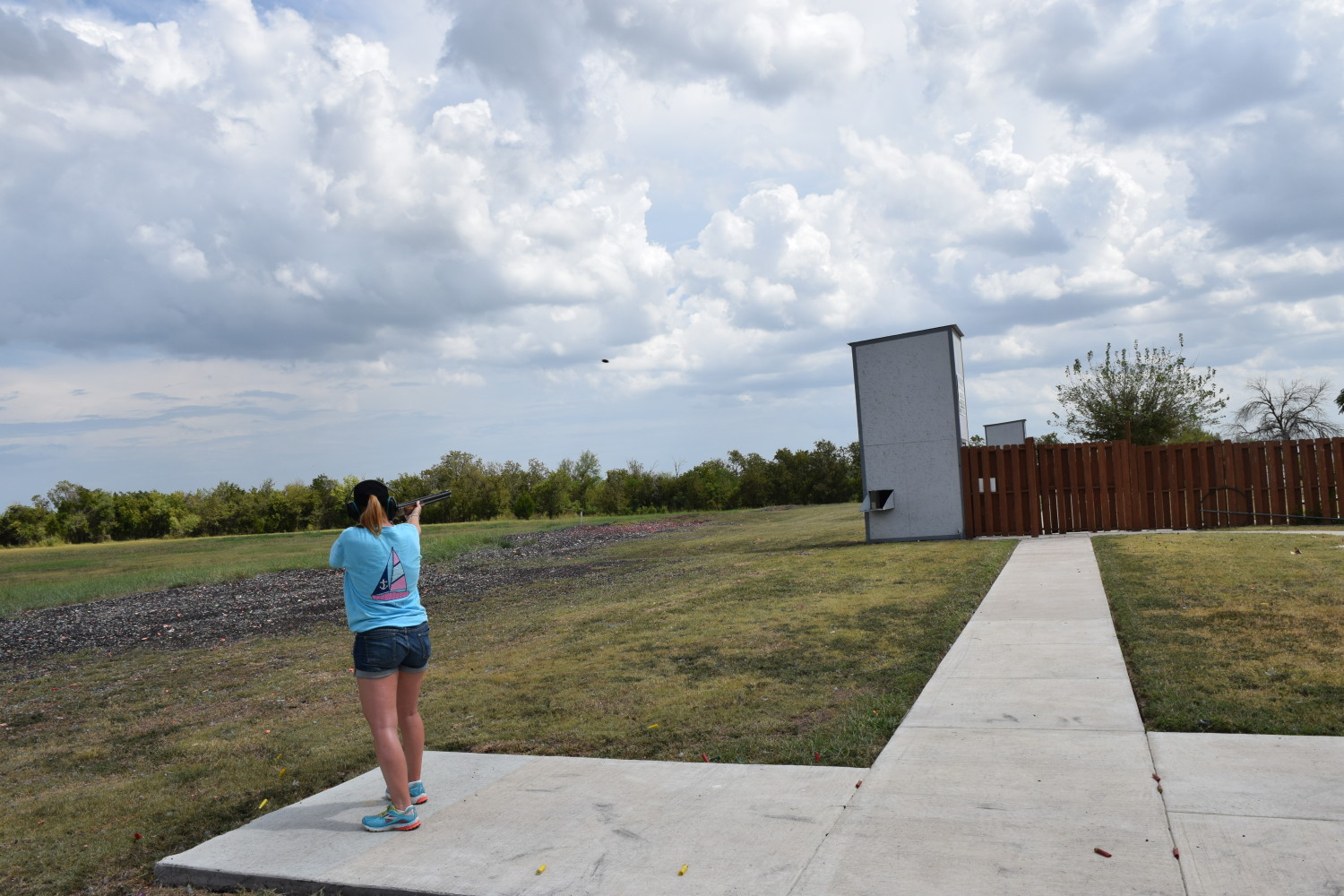 Shooting Skeet and Taking Names
It was a busy weekend around the Klenzendorf household. We:
Bought ammunition and hunting/fishing licenses
Watched Harry Potter and the Order of the Phoenix (Priorities.)
Cleaned the house
Shot skeet
Played water volleyball
Drove down to the farm
Did farm labor (on Labor Day!)
Hunted dove
Met with a contractor
Somewhere in there we fit in laundry. If only I was that productive on a regular basis.
One of the highlights of the weekend was taking my friend Bee shooting for the first time. Look at her smile!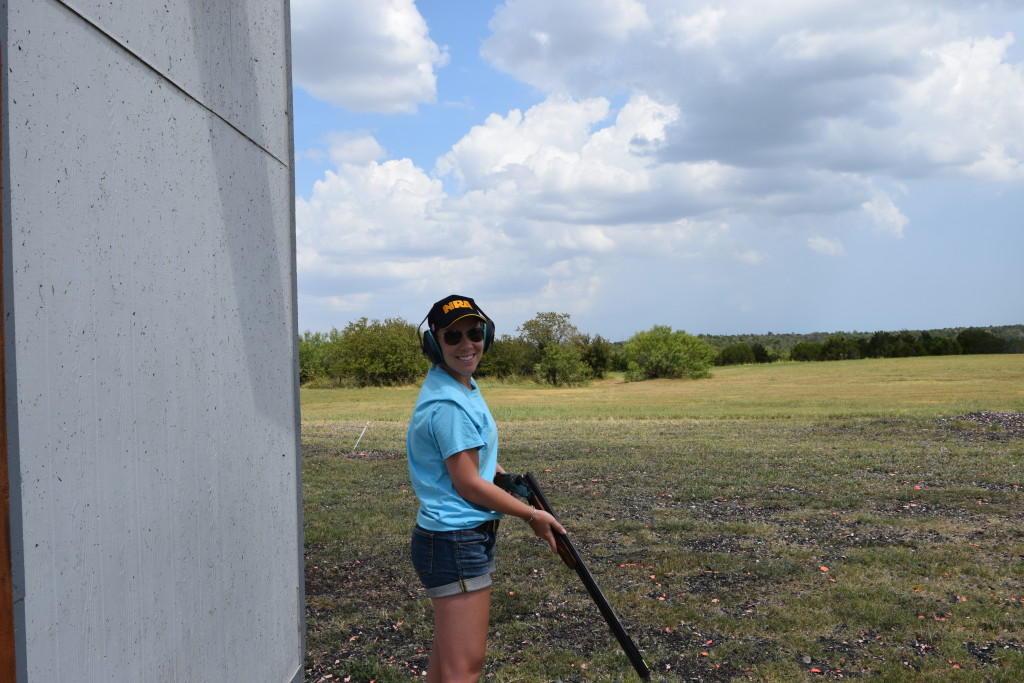 There's nothing like a shotgun and the possibility of blowing a clay disk out of the sky to put a smile on a girl's face.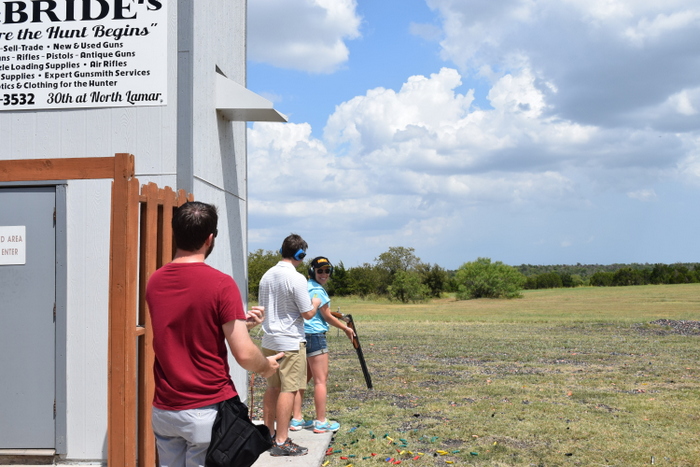 Bee had only been shooting briefly before, and this was her first "real" time to take on the challenge.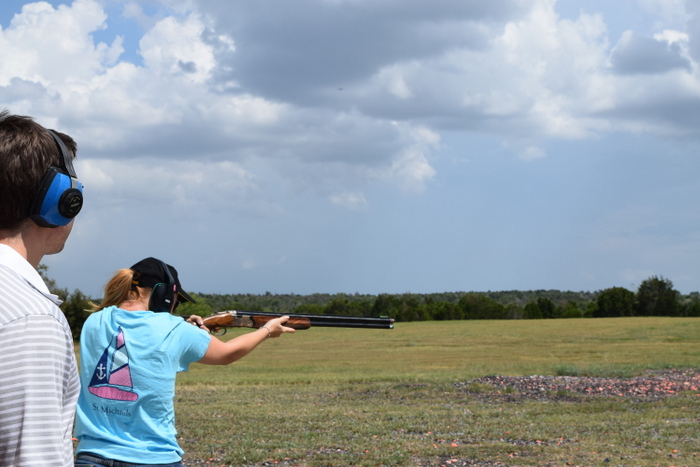 That's her boyfriend Mark, a sharp shooter in his own right, helping her. I was in charge of pushing the button that makes the disk fly out of the grey house pictured.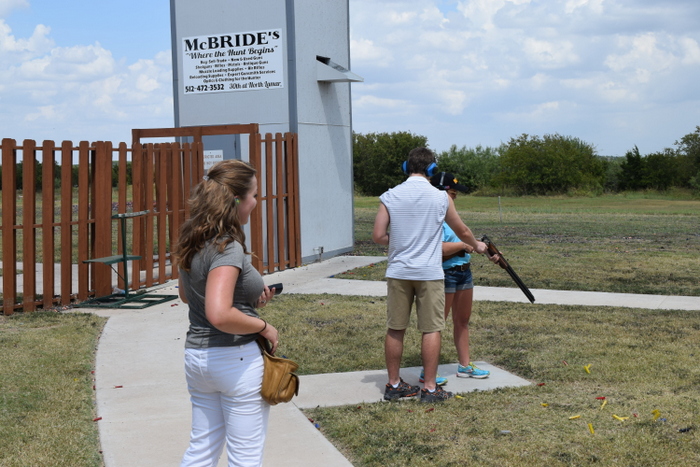 Go Bee go!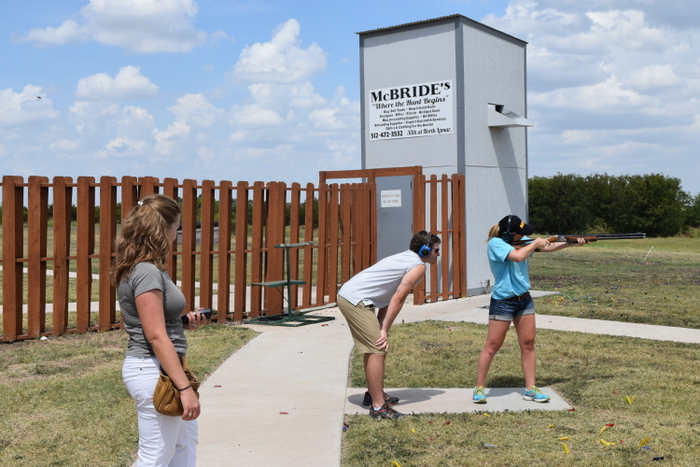 "This gun is heavy," she commented at one point. Lifting the gun is an arm workout but the only workout you'll get from shooting skeet. On the flip side, a heavier gun means there is less kick back.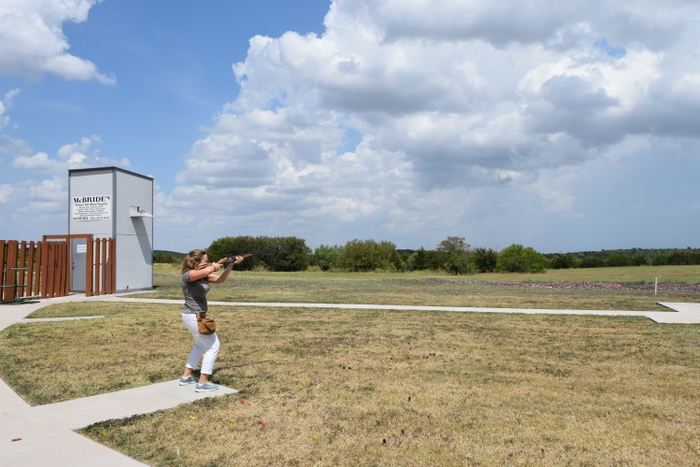 Side note: One of the most common ways people end up on this website is by Googling "what to wear skeet shooting." I have a few posts on it here and here. I recommend close toed shoes and comfortable clothes you don't mind sweating in. I have a shotgun shell pouch and carry it around my waist (see below) but this is not entirely necessary unless you're planning to shoot regularly—-pockets work fine.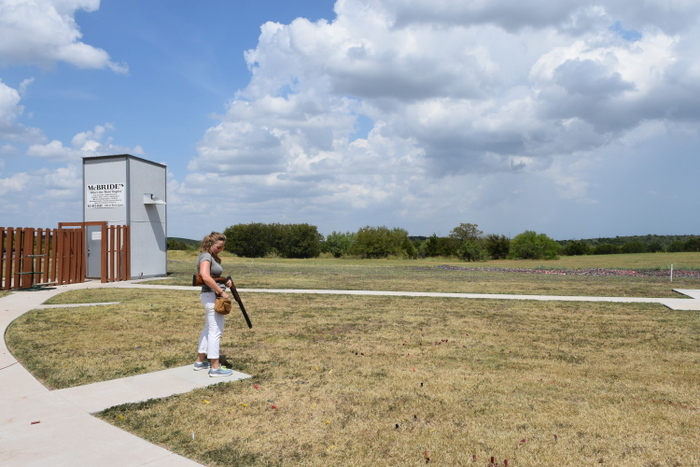 It was a HOT day and there was nary a tree in sight. The sun had no mercy. About 20 minutes in, we all started to have visions of various Sonic beverages.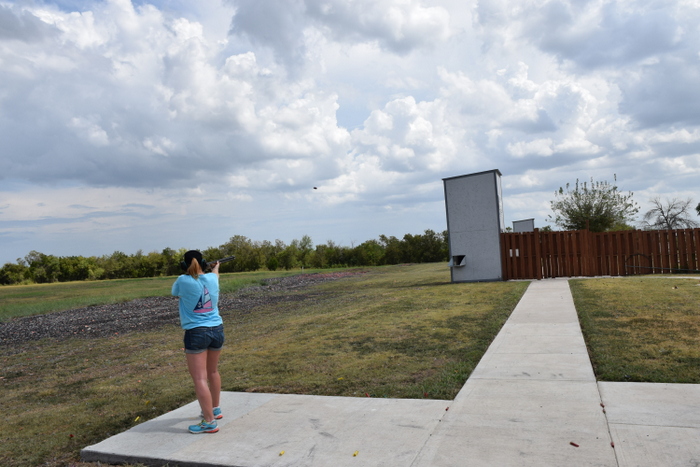 In all honesty, we shot terribly. I don't know what was up with us. Even Mark, who was probably the best shooter in our crew, was missing targets left and right. (Sorry for publishing this on the internet, Mark.)
Personally, I was a complete disaster, to the point that it was almost comical. Almost.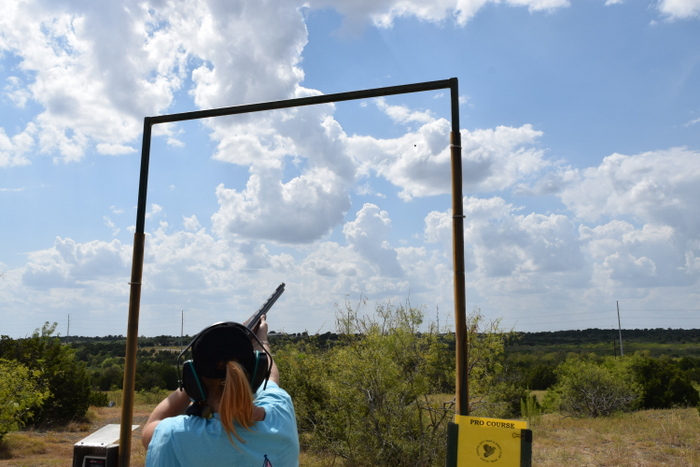 One thing you should know about Bee is that she's a champion tennis player. She was home schooled so she could practice and compete internationally, and she knows personally many of the tennis stars on TV. One time I was at her house watching the US Open when she said, Oh see that guy? He was my first kiss!
Suffice it to say, Bee does not like NOT being good at sports. She doesn't like missing targets or getting schooled. She's used to winning.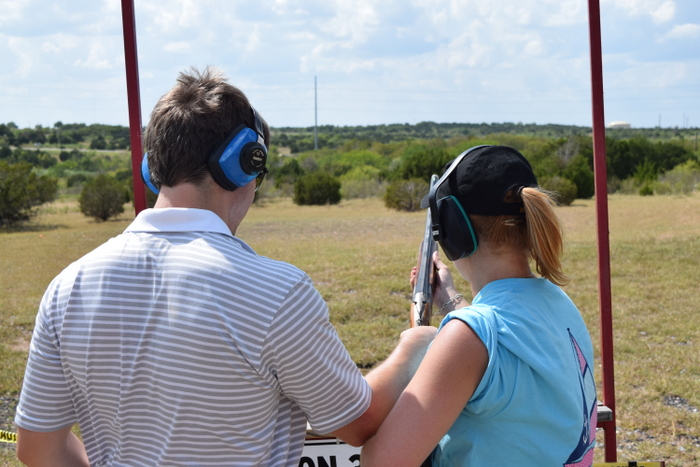 She's graceful about it of course! Very graceful. But now she wants to practice enough to be good. Watch out world.
Bee is one of my favorite people. She's enthusiastic about everything, crazy intelligent , and isn't afraid to speak her mind.
We had a little more luck on the sporting clays course, which was a lot of fun. The clay disks come out at random angles and you never know where they will fly out from next. You just push the button and see. In the picture below, Bee is shooting at one that was running along the ground. We did a little better on those.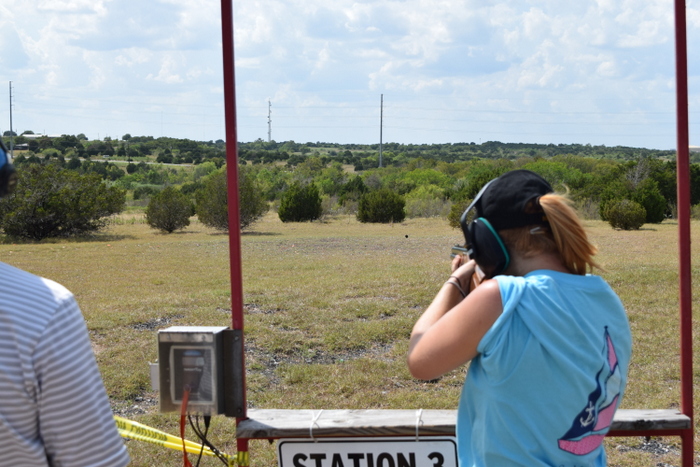 It was a fun day.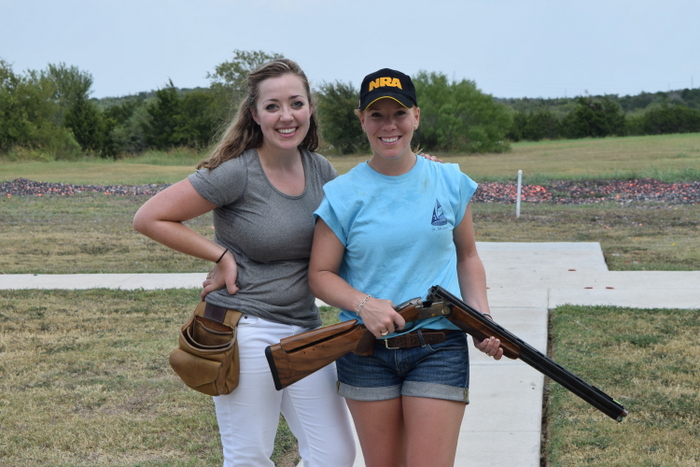 By the end we were hot, tired, and ready for this pool.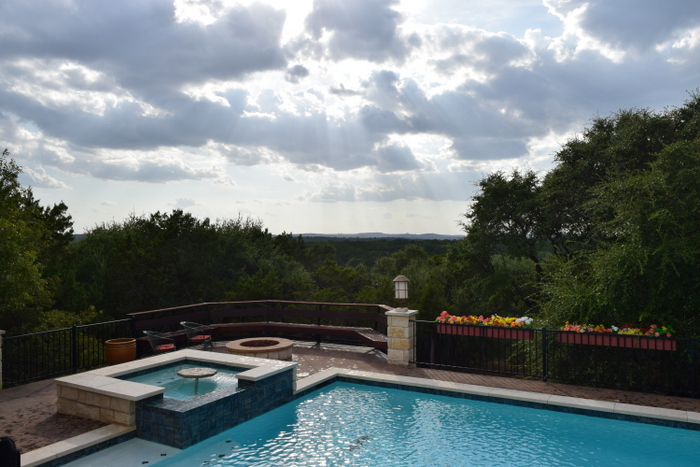 Bee's mom grilled steaks and we bopped a volleyball around as the sun set.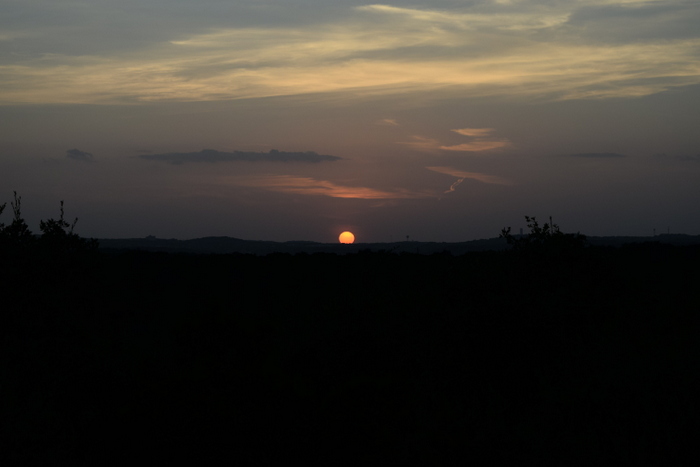 Just another day in hot, Texas paradise!