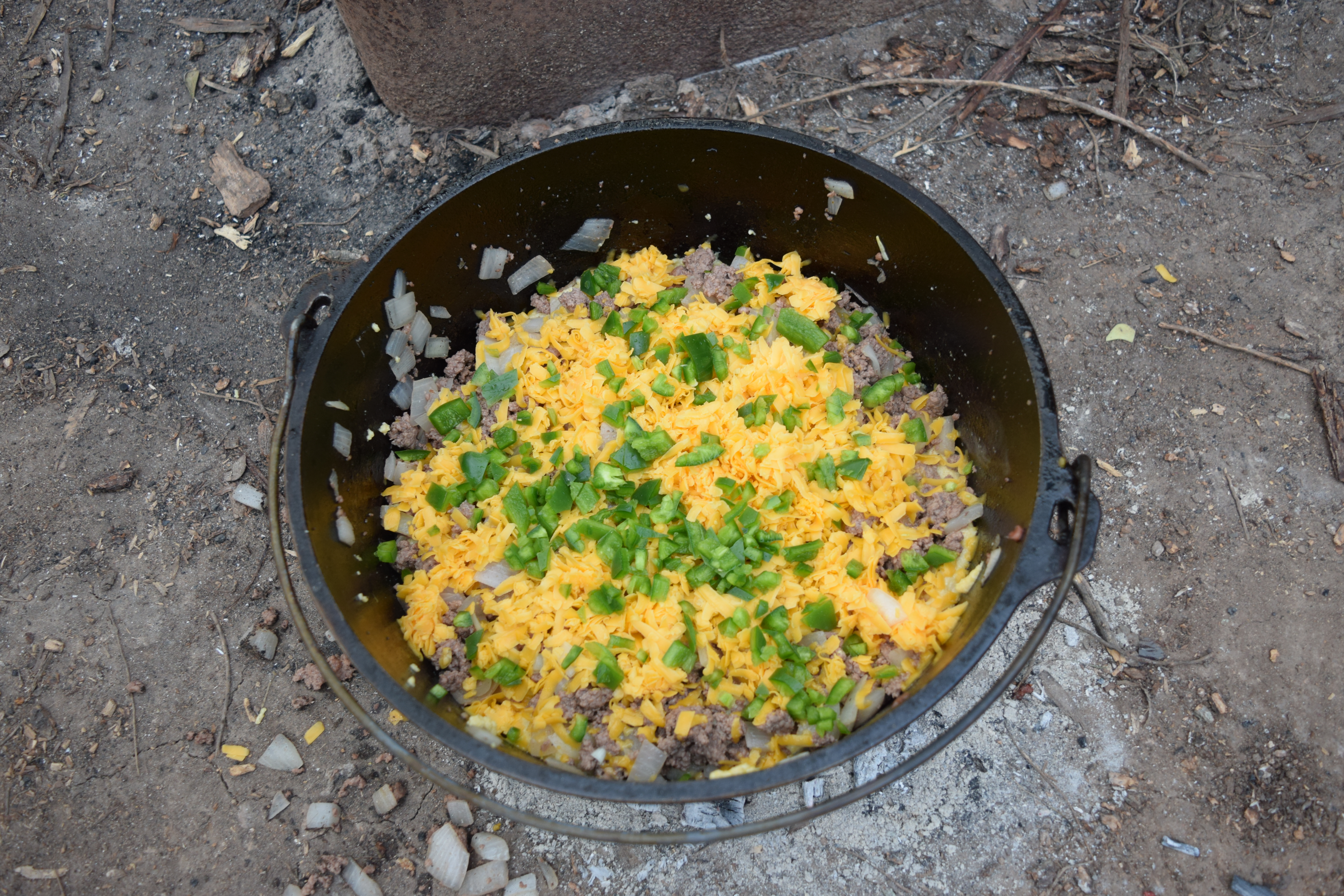 Dutch Oven Southwest Cornbread
I made this on a recent camping trip to Pedernales Falls State Park and mmmmmm, it was just what we needed. Flavorful, hearty, and traditional.
What You'll Need
10″ Dutch oven (larger works fine, just cook for less time and use a couple more briquettes)
23 charcoal briquettes
1.5 lb ground beef
1 medium onion, chopped
2 tbsp vegetable oil or bacon grease
1 c. cornmeal
1 c. milk
1 egg
1/2 tsp baking soda
1 tsp salt
1 can cream style corn
1 c. grated cheddar cheese
3 diced jalapenos (For those of you who don't like peppers, you can rest at ease because this was not spicy, even to some of my harshest critics.)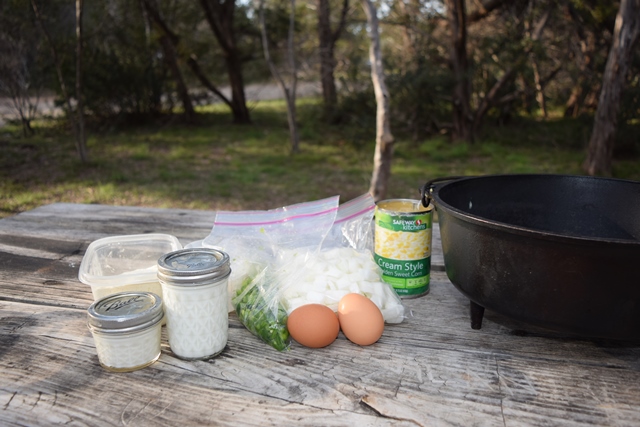 Equipment
Can opener if creamed corn can is not pop top
Large wooden or plastic spoon
Mixing bowl
Large container to use when draining beef
Dutch oven lid lifter
Plastic bowls and spoons or sporks
Sponge for rinsing out Dutch oven (remember, don't use soap!)
Set of fire tools — long handled tongs and poker recommended
For a simple one-page guide to Dutch oven cooking, click here. It's super easy, I promise!
Instructions – Before you leave!
Before you leave the house, dice and chop whatever needs to be diced and chopped. Mix together the dry ingredients. Grate the cheese.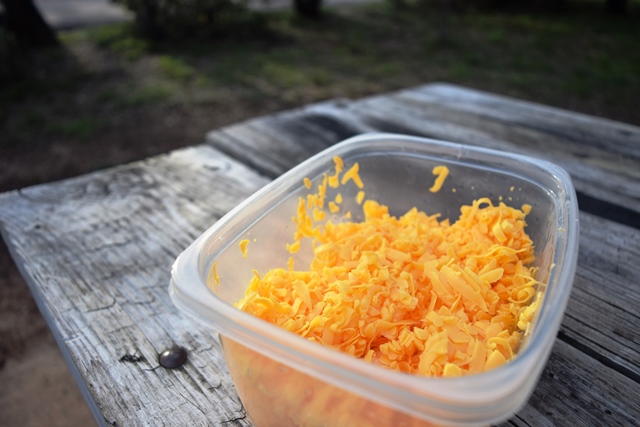 This is a good general rule for your outdoor cooking–why haul the entire bottle of baking powder to the campsite when you only need half a teaspoon?
PS. Do not leave the cheese container out while preparing the food. Your fellow campers will come along with their dirty fingers and take samples, (air quotes) "mistaking" it for an "appetizer."
Instructions – At the campsite
Start a fire with kindling and logs and/or fire starter. Place the briquets in the fire to get them started burning.
This may take a minute…be not discouraged.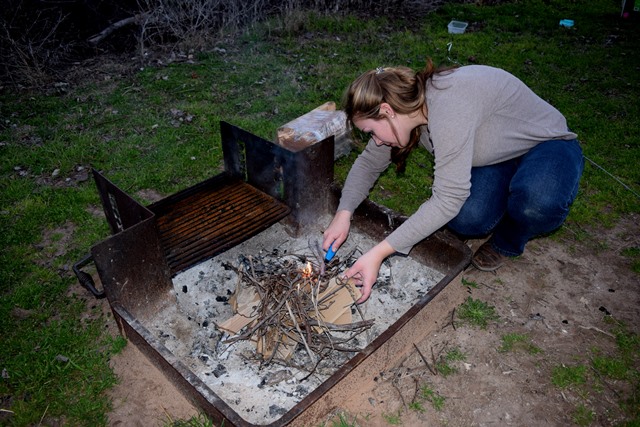 While you wait for the fire to get going, grease the inside of your Dutch oven with bacon grease.
A Dutch oven needs bacon grease (or Crisco) like crops need rain. Like a man, if you love it, give it bacon.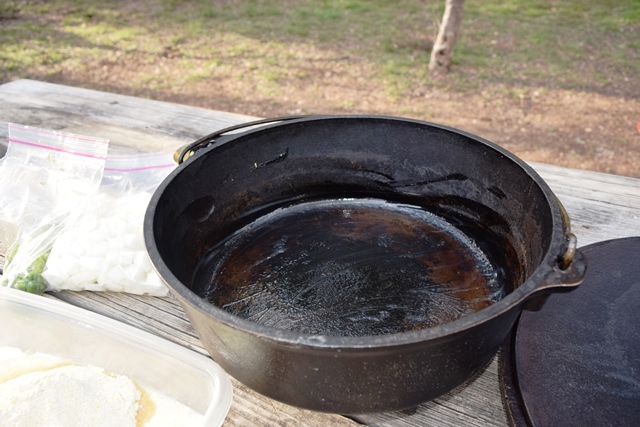 Combine the milk, egg, and dry ingredients.
Stir.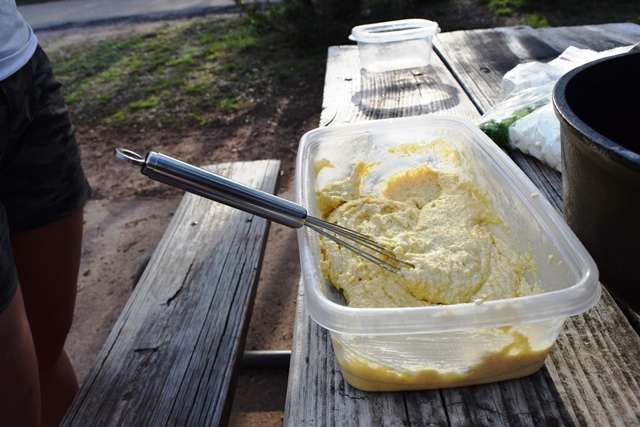 Once the coals are glowing, use a fire tool to remove 23 briquettes from the fire and set under the Dutch oven.
Wait a minute for the oven to absorb the heat.
Add the onions.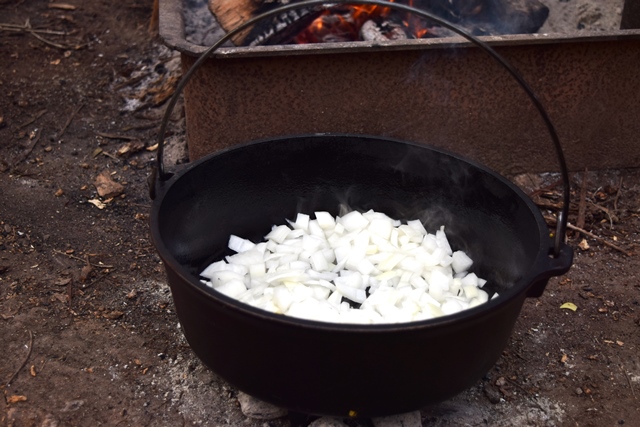 Add the meat.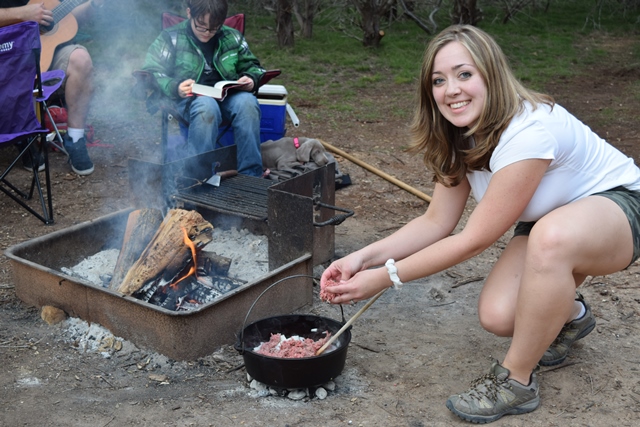 Stir and let brown.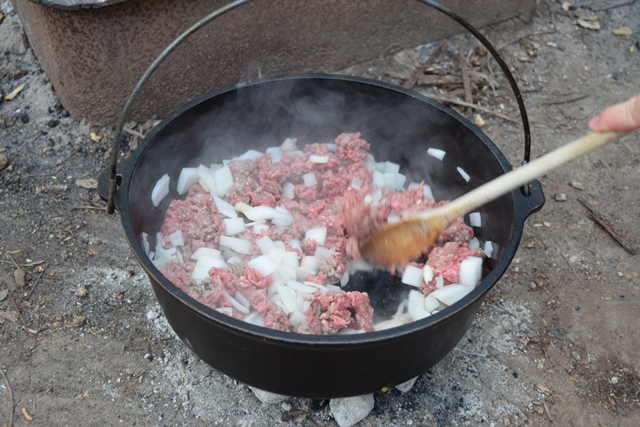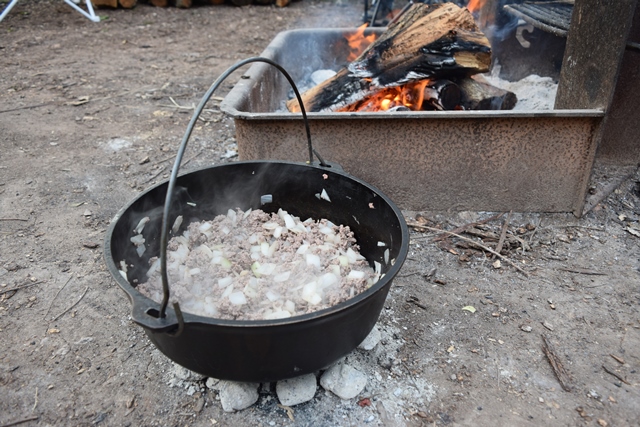 Remove mixture to a separate container and drain well.  Pro tip: remember to bring a good container for this part of the recipe. I didn't so had to make do with a plastic plate and it began to fold in the middle from the heat. Not good.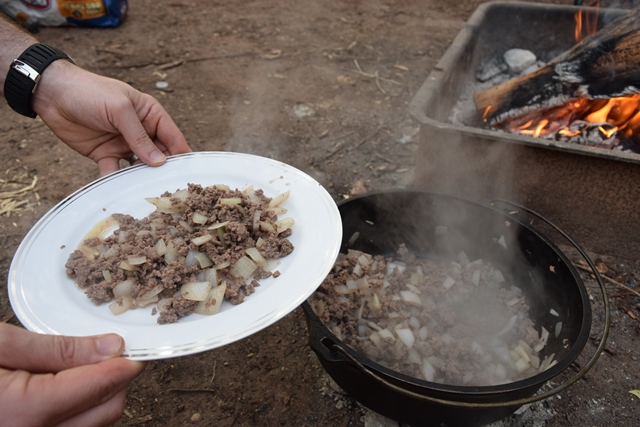 Pour half the cornmeal batter into the Dutch oven.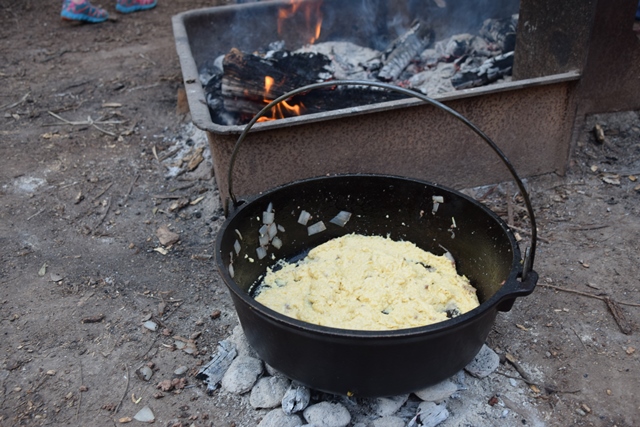 Spoon the meat over the batter, sprinkling with grated cheese and the diced jalapenos.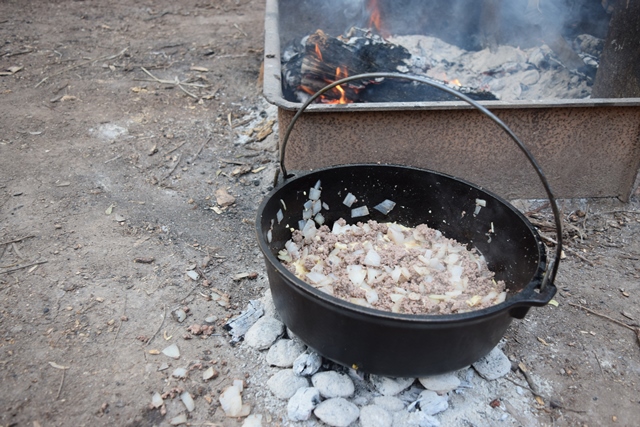 Top with the rest of the batter. I didn't have enough cornmeal for this step so mine ended up more like a dressing.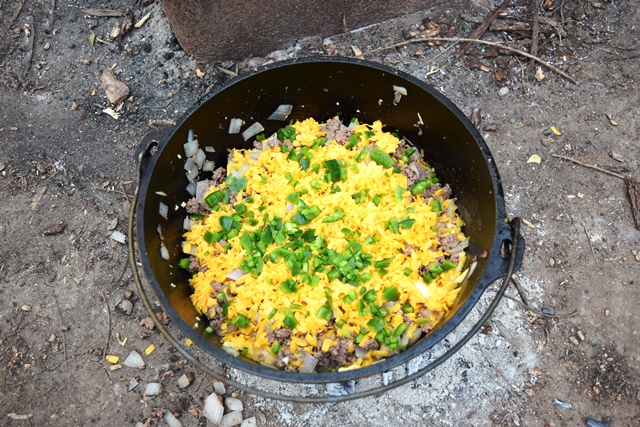 Cover the oven, and take 16 of the briquettes from underneath the oven and place them on the top of the lid.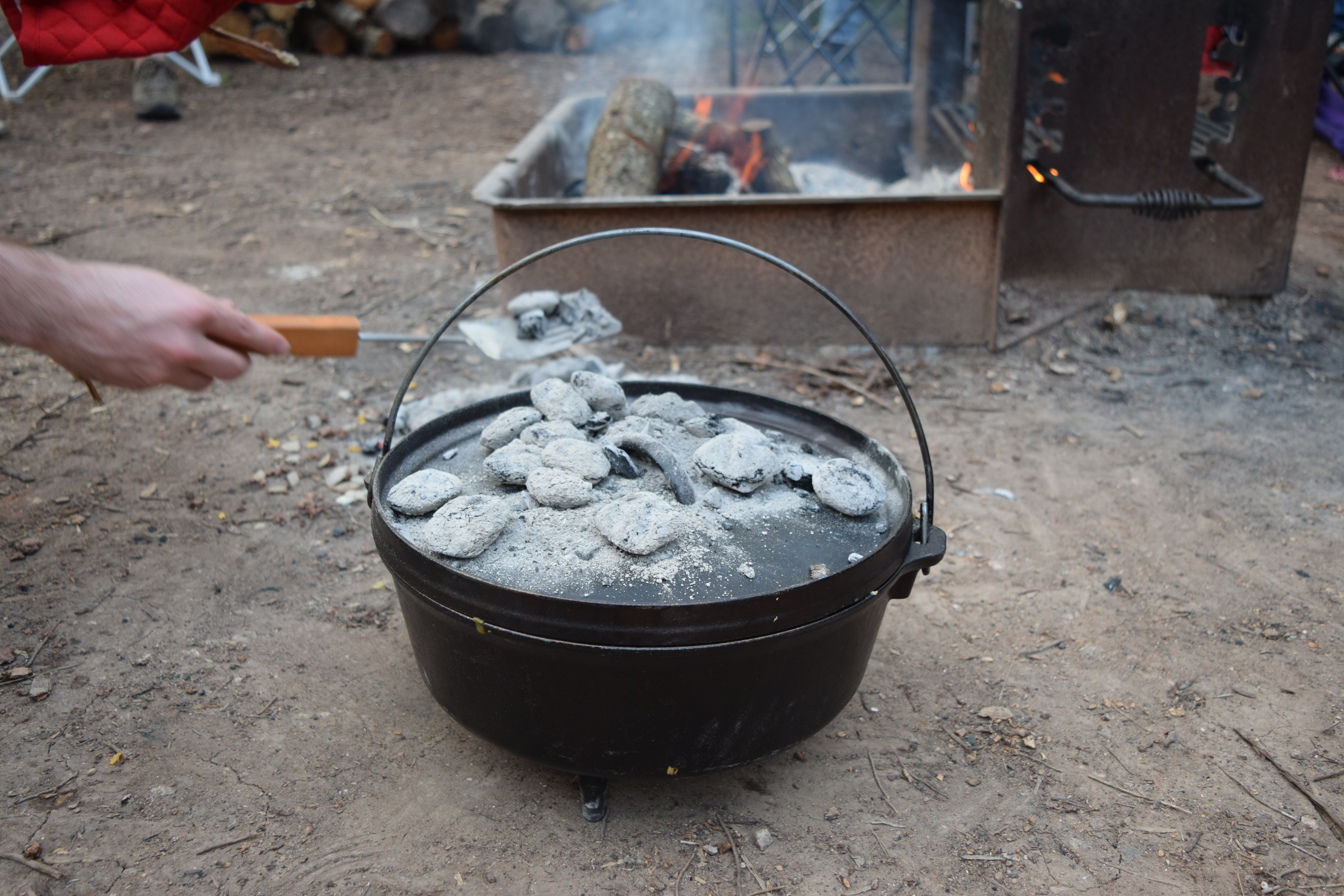 Make sure the remaining 7 briquettes are evenly spaced underneath the oven.
Bake for 45 minutes.
Caution: When opening the oven, be VERY careful not to jostle the lid as ashes will fall into your food. This is why I highly recommend investing in a lid lifter and removing the lid verrrrryyyy sloooowwwwlllly.
Dig in! Enjoy! Savor every bite! Because it doesn't get better than this.