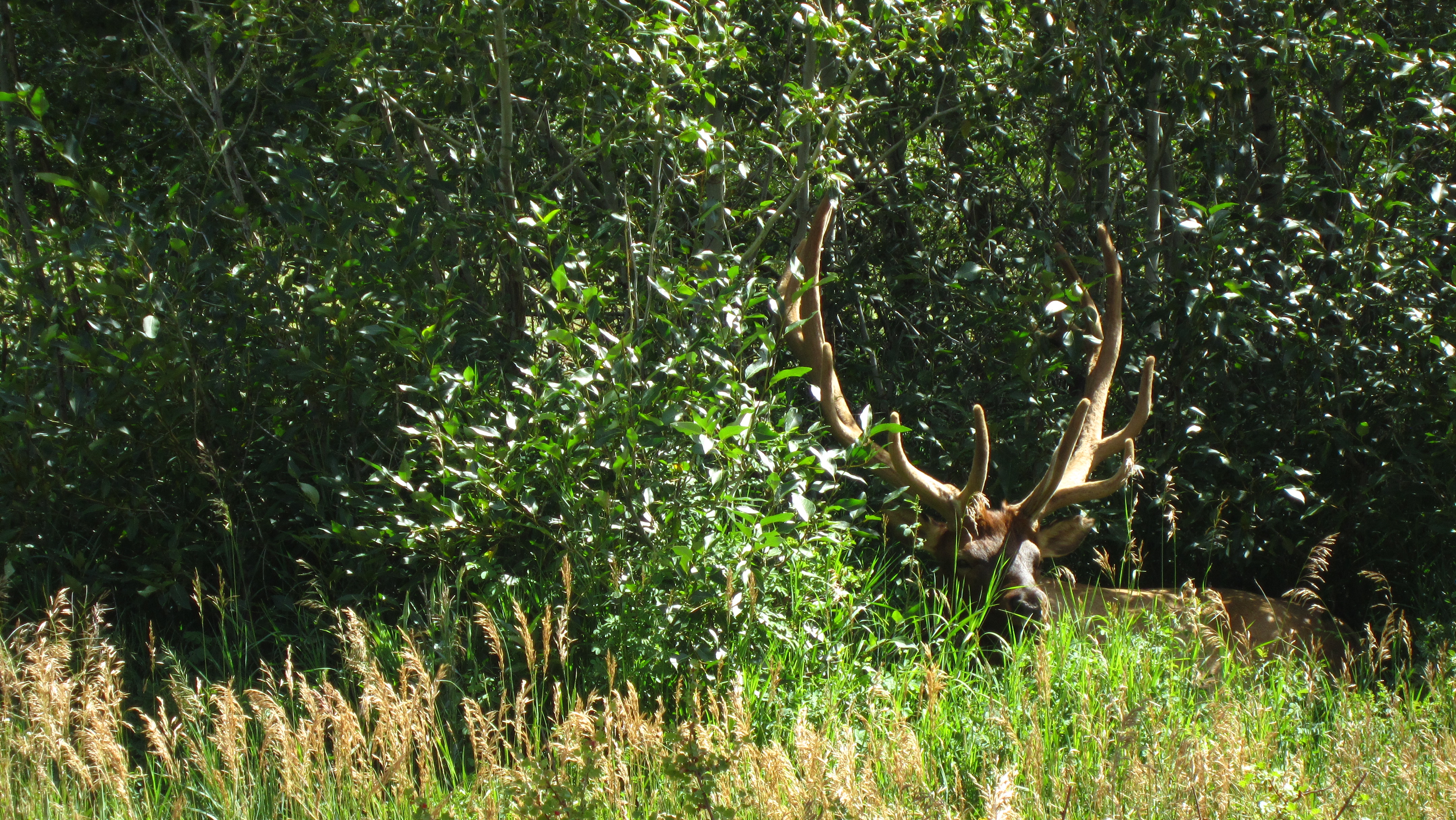 Elk Sightings in Estes Park
We made it to Estes Park, and it is just as beautiful as I remembered.
Our journey began at the crack of dawn when we took a 7am nonstop flight to Denver. From there we picked up our 4 wheel drive ride — a stick shift jeep.  Wearing hiking gear, eating trail mix, and cruising in a stick shift jeep made us feel like ultimate Coloradoans.
This is actually our third trip to Colorado this year. In June we went to Pueblo and Monarch and in February we skied in Breckenridge. I guess we just can't get enough.
Our route to Estes Park was a bit longer than normal thanks to the main road being shut down, so we ended up taking the scenic route on a winding road next to a river.
It was beautiful and our jeep handled the slick roads like a champ.
Since arriving, we've been focused on taking in the views from our friends' porch.
I may never leave.
Hello heaven!
I wish you could smell the pine trees and the crisp mountain air through these photographs.
Right now I'm writing from a chair on the deck and watching hummingbirds fight over who gets to drink from the feeder. They are aggressive!
They are not shy about telling the other hummingbirds to get off their turf.  So far I've counted eight of them buzzing around and fighting over the feeder.
Other than watching hummingbirds duke it out, we've also driven around town and up to the entrance to Rocky Mountain National Park, where we found the Fall River Visitor Center.
I recommend stopping at the visitor's center whenever you're at a national park for several reasons…
a) A ranger can tell you what trails and roads are closed, if any
b) You can sign up for guided hikes
c) You can see the schedule of ranger shows. (No trip to a national park is complete without a ranger show.) Kids love them and adults love them–or at least, I do. Ranger shows cover everything from constellations in the night sky to bighorn sheep, bears, and other wild animals in the park to the history of a park. I have many fond memories going to these as a child.
d) Goodies like park coloring books, junior ranger badges, history and guide books, artwork, and other souvenirs can be found inside.
e) If you're planning to backpack to primitive camp sites for a few days, you need to check in with the ranger and let them know your plans. (You should have a reservation as well.)
After checking out the visitor center, we drove bacck into town and right at the end of main street we found a dozen cars pulled off to the side of the road checking out this big elk buck, not more than fifteen yards away.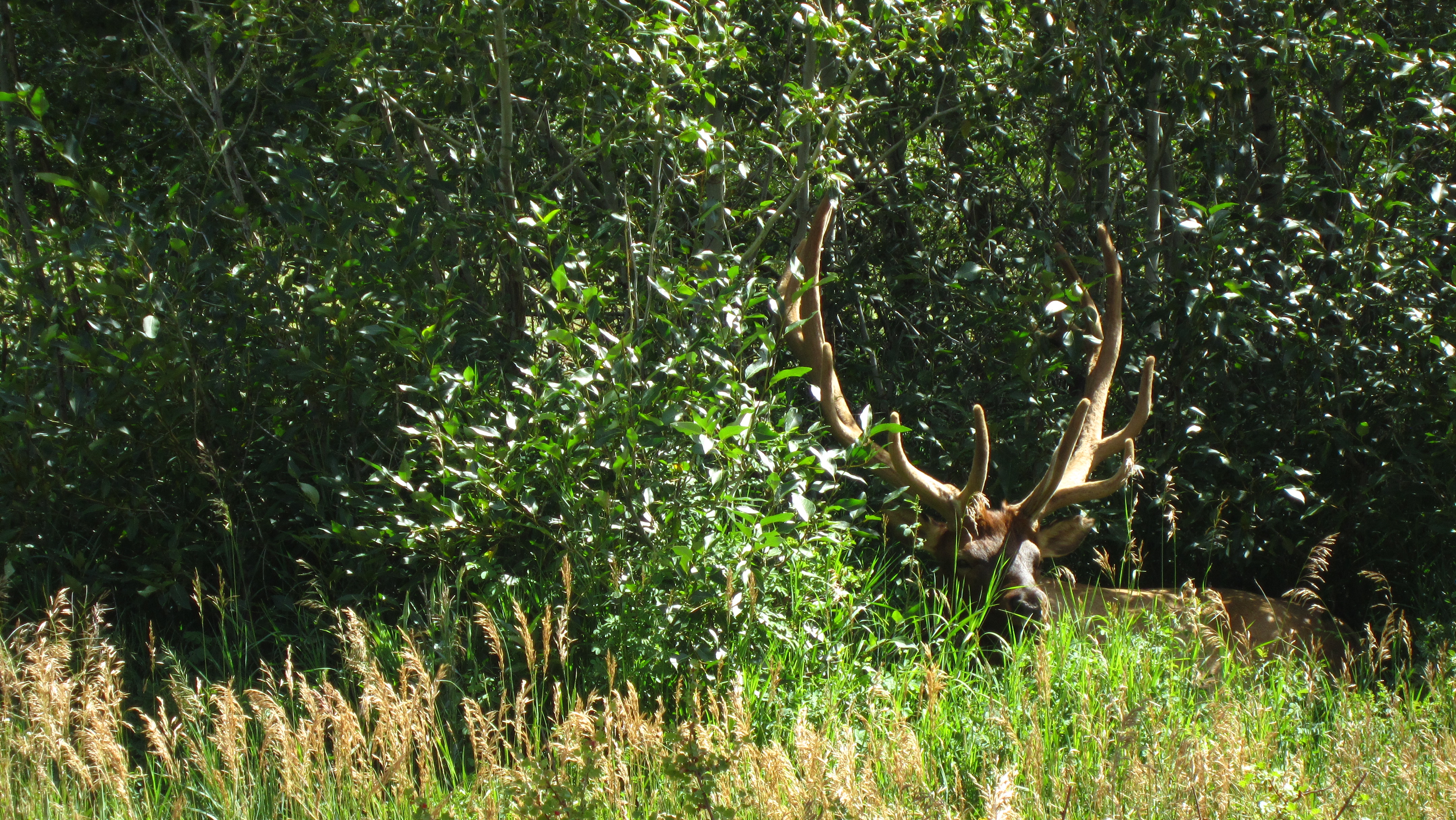 It was pretty awesome.
You can see him just above the row of branches in the photo above.
I guess he was enjoying the people watching.
That done, we parked in town and walked along the stream that runs behind main street, where a river walk and park had recently been built.
One thing you can be assured of in Estes Park is that you will never have to go more than fifteen feet without encountering an ice cream shop or a scenic place to sit.
Fortunately, you burn off all that ice cream in the mountains.
At least that is the logic I am using.
Tomorrow, my brother gets in and we will hit the trail hardcore. He's a bigtime climber and I will be huffing and puffing to keep up.
I think I'll need this shirt.