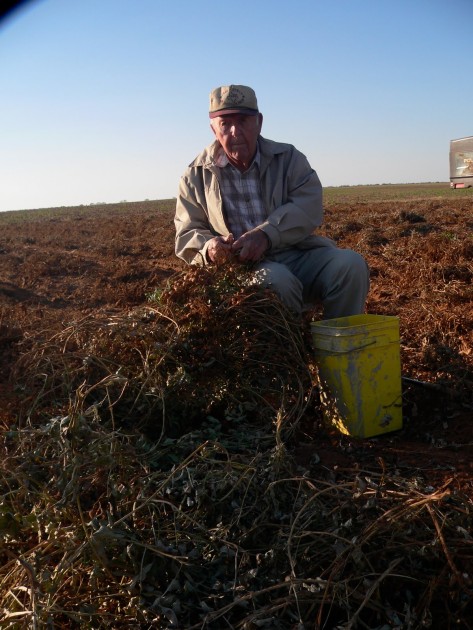 The Perfect Day in South Texas
This is Al Klopek, my grandaddy, out on our farm in a patch of peanuts.  Last month marked a year since he passed away, and I went down to Texas.  My mom and I spent a day celebrating his life to the best of our ability.  How does one celebrate the life of Al Klopek?
First, you get in the pickup and head out to the farm to drive around.
Roll the windows down and inspect the fields.
Nothing beats the bright green hue of a young wheat field.
Drive down the dirt road even if it's muddy and you might get stuck.  After a rain, you have to go check and see how much it actually did rain.  Rain is integral in the life of a farmer: you talk about rain, you worry if it isn't raining, you worry if its raining too much, you speculate about when it will rain again, how much it will rain next time, or when it will stop raining.  We have a tin roof on our house, and in a good rain you can sit there quietly and hear every the thunder of the rain overhead and its truly something special.  It is one of my favorite sounds in the whole wide world.  After the rain is over, you walk out in your yard and check the rain gauge.  Then you go out and check the tanks, the pastures, and the fields, and see just what that rain meant for you and your crops.
Next, in order to properly honor the life of Al Klopek, you then must go to Cowpokes BBQ in Pearsall, Texas.
That sounds like my kind of Saturday night!
We went through the drive through and both of us got a wrap with onions, pickles, freshly sliced brisket, and bbq sauce.  I can't find the words to tell you how good it was.
Next, you must go to the gas station and get a scratch off.  My grandad loved scratchoffs, and we always used to find them in our stockings at Christmas.  We each got a Cactus Cash, and hoped for good luck as we scratched off the numbers.
We didn't win anything.  Oh well! Better luck next time.
Then, in honor of Grandaddy, we decided we really needed another brisket wrap.  I tell you, it was to honor him.  "If he was here, he would want us to go to Cowpokes again and get another brisket wrap," we told ourselves.
Next, after going to Cowpokes one more time, and this time talking to a handsome cowboy in a very starched white shirt and pressed Wranglers (God Bless Texas) we headed out to the Dilley Cemetery.  Dilley is the town where my grandad lived and farmed for a good portion of his life.
My grandad had the greenest thumb in all of Frio County.  He could make a plant grow upside down.  I mean this quite literally.  One time my grandad tore an ear off a thornless cactus, stuck it upside down in a pot, and the darn thing grew.
So, in honor of his green thumb, we decided to plant that very same cactus on his grave.
I think it was the perfect tribute.  Thornless cactuses are:
Hardy
Enduring
Soft
Self sufficient
They also love Dilley's red dirt (see picture), and flourish under almost all circumstances.
That is exactly like my grandad. I can't think of a better thing to plant that will remind us of him. Especially since this very cactus was the result of his green thumb.
Here's to a great day in memory of my grandad.